Gerrish MedEsthetics Offers The Complete Juvederm Collection at all our locations, Vienna, VA, Alexandria, VA, and Scottsdale, AZ
LIFT IT. SMOOTH IT. PLUMP IT. JUVÉDERM IT.
The JUVÉDERM® collection of Hyaluronic acid gel dermal fillers is used to soften deep folds and reduce wrinkles in the face. Gerrish MedEsthetics provides the full collection of JUVÉDERM® injectable treatments: Juvederm Volbella, Juvederm Vollure, Juvederm Ultra, Juvederm Ultra Plus, and Juvederm Voluma.
Wrinkles and lines aren't the only signs of aging. Over time, the cheeks flatten, and the skin may begin to sag. This is caused by a natural loss of volume in the cheek area, or what the experts call age-related midface volume loss.  We know a thing or two about fillers, Dr. Scott Gerrish developed his Signature Liquid Face Lift. Dr. Gerrish was a participant in the Juvéderm™ Phase IV trial, making him one of the first physicians in the U.S. to use this advanced dermal filler.
JUVÉDERM® is the #1 dermal filler collection in the world that offers 5 different products to meet your specific needs. JUVÉDERM adds volume to plump lips, smooth lines, or lift & contour cheeks—we have what you need to get the results you want.
CHEEKS




JUVEDERM VOLUMA XC

CHIN




JUVEDERM VOLUMA XC

LINES




JUVEDERM VOLLURE XC & VOLLURE VC

LIPS




JUVEDERM VOLBELLA XC JUVEDERM ULTRA XC
JUVEDERM FAQs
JUVEDERM
Do not receive JUVÉDERM® injectable gel fillers if you have a history of severe allergic reactions (anaphylaxis), or if you are allergic to lidocaine or the proteins (Gram-positive bacterial proteins) used to make hyaluronic acid (HA) in JUVÉDERM® injectable gel fillers.
Join AllēSM, the new and improved loyalty program by the makers of JUVÉDERM®, for savings on treatments within the JUVÉDERM® Collection. With AllēSM, you can earn 200 points for qualifying JUVÉDERM® treatments that you can redeem for savings on future treatments.
AllēSM also rewards you for getting a variety of in-office treatments from other brands too. Then, redeem points for savings on your favorite Allergan Aesthetics brands. Use points as you go, or store them in your Wallet for big savings later. 100 Points = $10 toward qualifying products and treatments. * current rewards. subject to change by Allergan.
The cost not only includes the price of the product but, more importantly, the skill and expertise of the specialist or healthcare professional who is administering your treatment. Look for someone who is licensed and trained and has experience treating patients with the JUVÉDERM® Collection. Be wary of discount products or "cheap" JUVÉDERM®Collection treatments —if it sounds too good to be true, it probably is.
It is more important to find an experienced specialist who will take the time to understand your treatment goals and develop a treatment plan that is right for you.
Your aesthetic healthcare provider will take your medical history and provide a facial analysis. Be prepared to discuss your aesthetic areas of concern. This is not a surgical treatment. The actual treatment with JUVÉDERM® injectable gels can take 15 minutes to 60 minutes, depending on which area of your face is being treated.
The JUVÉDERM® Collection of Fillers is made from hyaluronic acid (HA). HA is a natural substance in the skin that delivers nutrients, helps the skin retain moisture and softness, and adds volume. Each product in the JUVÉDERM® Collection of Fillers is made from a modified form of HA.
Different formulations are approved to either volumize cheeks, smooth parentheses lines, smooth vertical lip lines, or plump the lips. The results are subtle and long-lasting.
JUVÉDERM VOLLURE™ XC softens moderate to severe parentheses lines and wrinkles by adding subtle volume around the nose and mouth in adults over the age of 21.
JUVÉDERM VOLUMA® XC adds volume to the cheek area to correct age-related volume loss in adults over 21.
JUVÉDERM VOLBELLA® XC adds subtle volume to lips and softens the appearance of vertical lip lines.
JUVÉDERM® XC smooths moderate to severe parentheses lines and wrinkles around your nose and mouth.
JUVÉDERM® Ultra XC adds fullness and plumps lips as well as smooths and corrects moderate to severe parentheses lines in adults.
JUVÉDERM® is the #1 selling collection of hyaluronic acid fillers in the U.S. Each product in the JUVÉDERM® Collection of Fillers adds volume to a different area of the face—without surgery. All JUVÉDERM® fillers are smooth, crystal-clear gels that are administered by injection in your aesthetic healthcare provider's office.
Gerrish MedEsthetics Awarded  "2021 Top 250 " by Allergan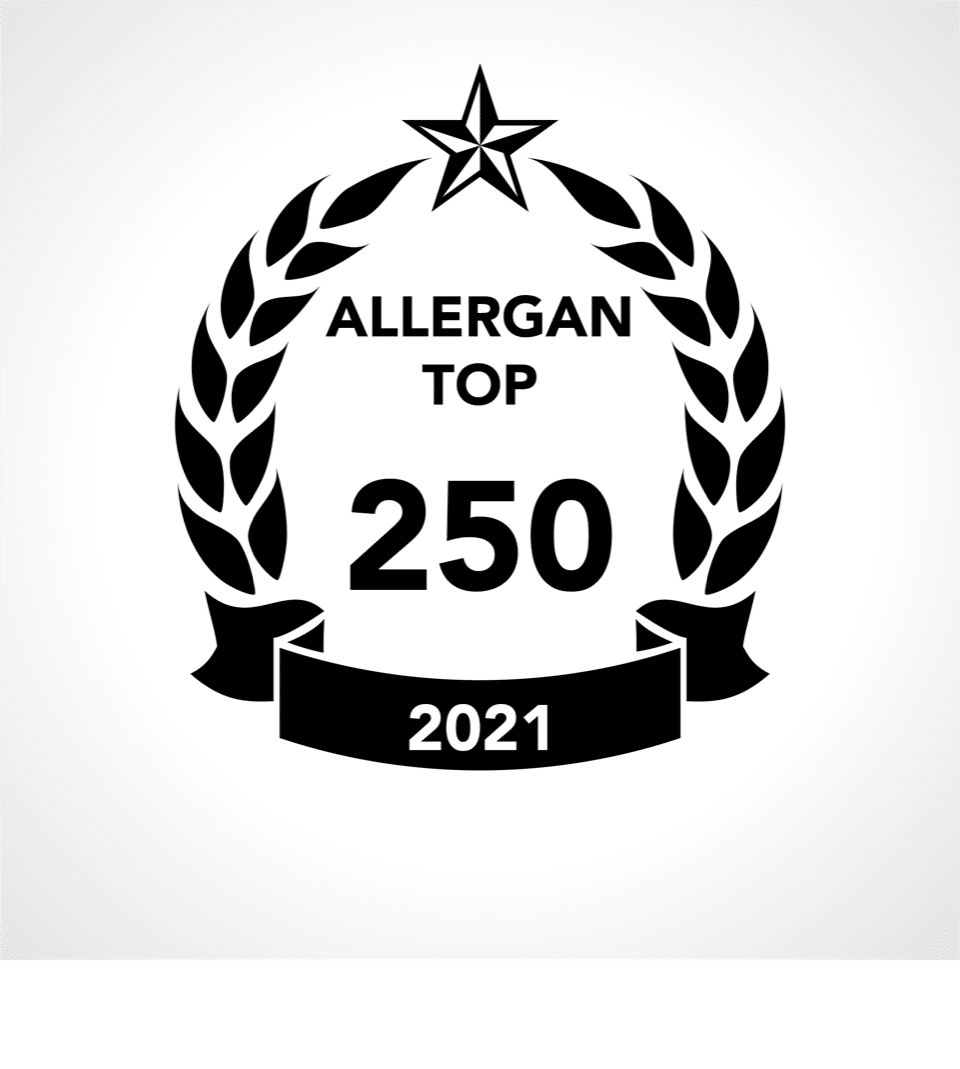 Allergan, the maker of today's top aesthetic medical products, annually recognizes the country's most skilled and top physicians to honor their contributions to the field of aesthetic medicine. This award is one of the highest recognition levels in the Allergan Partner Privileges program. Only the top-rated providers in the field of aesthetic care are recognized as "TOP 250" by Allergan.
In 2021 our practice ranked "TOP 250" and this distinction places our practice at the top 1% of all of Allergan's practices across the country. The Top 250-member status by Allergan not only reflects our practice's premium products but also the dedication showed by Dr. Scott Gerrish, The MedEsthetics Team, and our loyal patients.