Gerrish MedEsthetics Awarded  "2021 Top 250 " by Allergan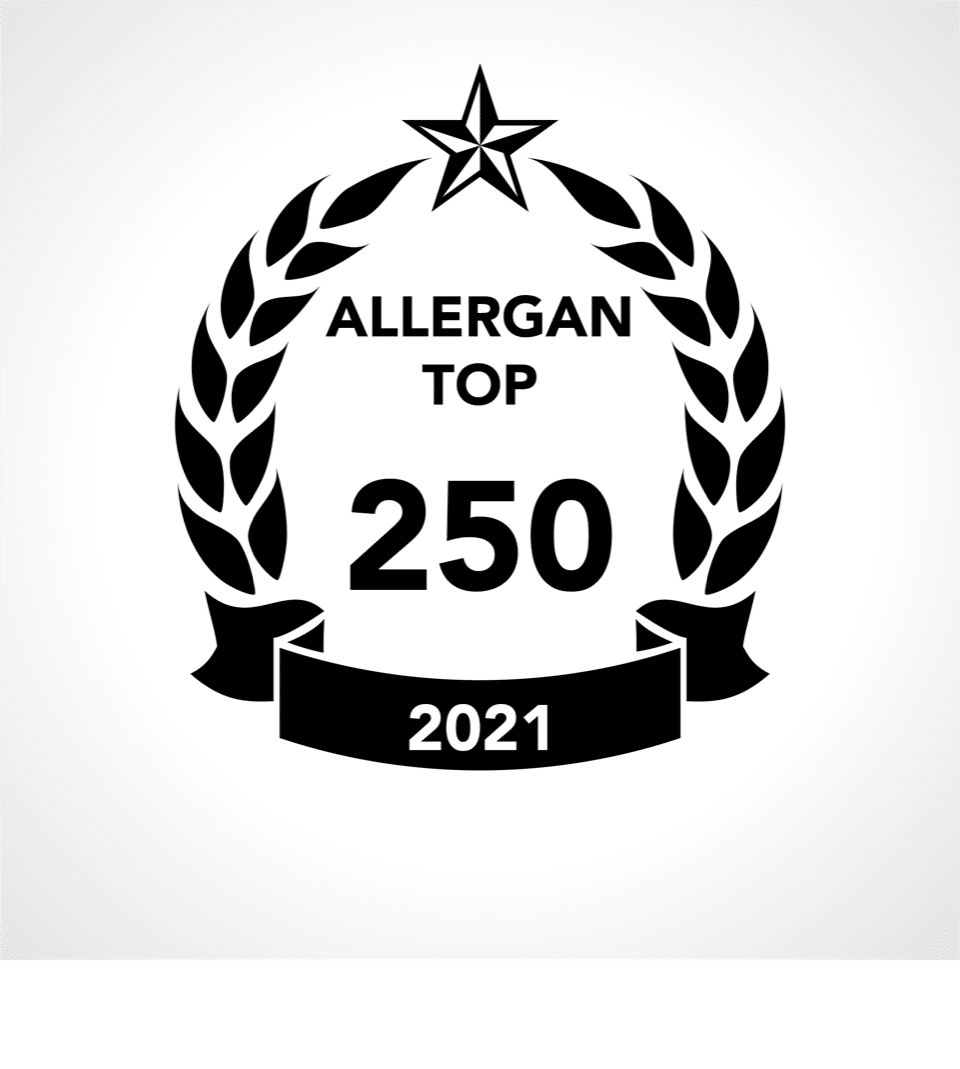 Allergan, the maker of today's top aesthetic medical products, annually recognizes the country's most skilled and top physicians to honor their contributions to the field of aesthetic medicine. This award is one of the highest recognition levels in the Allergan Partner Privileges program. Only the top-rated providers in the field of aesthetic care are recognized as "TOP 250" by Allergan.
In 2021 our practice ranked "TOP 250" and this distinction places our practice at the top 1% of all of Allergan's practices across the country. The Top 250-member status by Allergan not only reflects our practice's premium products but also the dedication showed by Dr. Scott Gerrish, The MedEsthetics Team, and our loyal patients.
 Dr. Gerrish is highly experienced with products used in a liquid facelift procedure. Having performed over 20,000 BOTOX® procedures, he is recognized by Allergan as a Platinum Plus BOTOX® Provider. He has also performed over 10,000 procedures with advanced dermal fillers and is designated by BioForm as a Premier Provider of Radiesse®.  With over 8,000 non-surgical procedures and treatments personally administered by Dr. Scott Gerrish is certainly one of the most experienced providers of non-invasive to minimally invasive cosmetic procedures.
CoolSculpting has awarded Dr. Gerrish with such prestigious recognition at a Diamond Center Of Excellence. Having performed over 7000 CoolSculpting procedures patients can confidently expect the best results. 
Dr. Scott Gerrish is the Medial Director of the East Coast CoolSculpting Training Center in Reston, VA, and has trained more than 2400 medical professionals worldwide on the CoolSculpting procedure. The comprehensive programs at the training center teach doctors, nurses, and medical professionals the latest techniques and best practices under the direction of Dr. Gerrish.
The miraDry Corporation recently rolled out globally a new painless procedure developed by Dr. Scott Gerrish so that patients may undergo the miraDry procedure comfortably and pain-free! 
Dr. Gerrish was a participant in the Juvéderm™ Phase IV trial,  READ MORE
Michele Duley re-joined Gerrish MedEsthetics as the new Office Manager in August of 2021.  Michele previously worked for Dr. Scott Gerrish for 6 years and then took some time off to raise her two children who are now both in high school.  Michele enjoys spending her free time running, exercising, and being surrounded by her family and friends. She is very excited to be back in the medical spa industry and working with the wonderful staff here at Gerrish MedEsthetics.